London, July 16 (Reuters) | Young tennis prodigy Carlos Alcaraz of Spain shattered Serbian veteran Novak Djokovic's dream of winning Wimbledon men's final 2023 by clinching the title on Sunday.
After dropping the first set 1-6, the 20-year-old Spaniard Alcaraz overcame the four-time Wimbledon champion Djokovic in a dramatic final. The final score was 7-6 (8-6), 6-1, 3-6, and 6-4 in his favor.
Table of Contents
Djokovic has never dropped a set on the All England Lawn Tennis Club's Centre Court and had never lost a match at Wimbledon after winning the first set. In a grueling match that lasted four hours and 42 minutes, Alcaraz stunned Djokovic by grabbing the victory from the Serbian superstar, ending that streak.
After losing the first set, it seemed difficult for Alcaraz to come back, but he maintained his discipline in crucial rallies. Alcaraz won the second set in a tiebreak after Djokovic made a strong start. The third set proved to be decisive for Alcaraz. After losing the first point, he broke Djokovic's serve. With this young Spaniard's sensational performance, he took the lead 2-1 in a 27-minute long rally, ultimately winning the match.
Alcaraz sealed the victory in Wimbledon men's final
Alcaraz sealed the victory by winning the third set 6-1, pushing Djokovic onto the backfoot. Djokovic made a comeback in the fourth set, improving his serve and forcing the match into the fifth and deciding set. While Djokovic had more experience playing under pressure, Alcaraz displayed exceptional athleticism, taking a 3-1 lead after trailing in the first game. Djokovic vented his frustration by smashing his racket on the ground, resulting in a warning from the referee.
Although this event briefly delayed Alcaraz's victory, he clenched the championship in his fist, dropping only five points in the remaining match.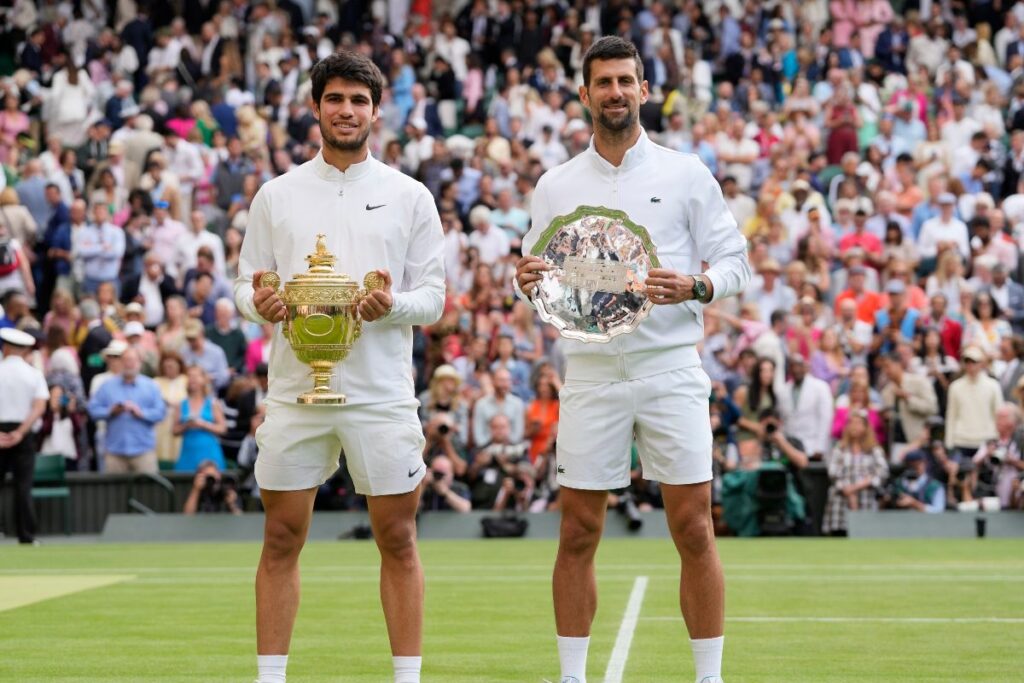 Congratulating Alcaraz on his historic win in Wimbledon men's final, Djokovic said, 'You came with a big serve and big shots. You deserve this victory. Well done! I thought I just had to be cautious of you on clay and hard court, not on grass. But after this year, I won't think that way anymore.'
must read : MLC 2023: Steve Smith can play for this team, becomes brand ambassador
He added, 'When all emotions settle down, I'll be very grateful because I have won many tough and close matches here in the past. I should have lost those matches, but I won them, so maybe the scales have balanced here.'
Alcaraz remarked, 'This is like a dream come true for me. I wasn't planning on rising to such heights so rapidly. Sincerely, I'm proud of who I am. I now much like playing on grass courts.
Djokovic will have to wait until the US Open 2023
Djokovic will have to wait until the US Open 2023 to try to win his 24th Grand Slam championship following this setback. Djokovic had already won the Australian Open and French Open at the beginning of the year, but Alcaraz's triumph has prevented the Serbian player from capturing all four Grand Slam championships in a single calendar year.
Rafael Nadal's successor in Spain is Alcaraz, who has already claimed his second Grand Slam title. In the previous year, 2022, he triumphed in the US Open competition.
Conclusion:
A new era in tennis has begun as a result of Carlos Alcaraz's incredible Wimbledon final triumph over Novak Djokovic. Young Spaniard has become a powerful force in the sport because to his talent, tenacity, and composure, which have helped him reach new heights. With his successful Wimbledon run, Alcaraz unquestionably solidified his spot among tennis' biggest names. The upcoming installment of his remarkable trip is highly anticipated by the entire world.