Bangalore. Sushri Aanchal Panwar, a talented player of the Seervi community and daughter of Shri Prakash Ji and Shrimati Manju, residing in Bera Ramar, village Ageva, Tehsil Jaitaran, Pali, currently residing in J.P. Nagar, Mysore City, made history during the Karnataka State Under-13 Junior Girls Basketball Championship held at Kantirava Stadium from July 15, 2023, to July 22, 2023.
With outstanding performances from the two talented players from Mysore and excellent teamwork from all their teammates, Mysore's Under-13 Junior Girls team reached the finals and claimed the championship trophy for the first time, making Mysore the victorious team in the competition.
In the Karnataka State Championship, Seervi community talent Aanchal Panwar, who is currently the captain of the Mysore team, delivered a spectacular performance throughout the basketball championship, becoming the main standout player of the series. This is a matter of pride for all of us as Aanchal Panwar has brought glory to the community. Currently, Aanchal Panwar is a student of the 8th grade. A total of 46 teams participated in this competition.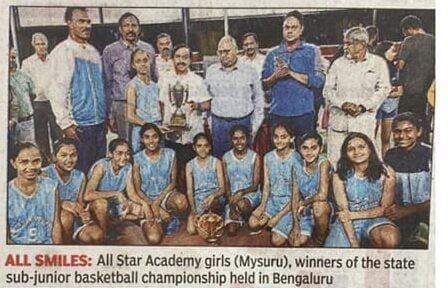 Pratigya Kag
The other talented player, Pratigya Kag, daughter of Mr. Nemaram and Mrs. Rekha Devi from the village of Akeli, Tehsil Raipur, Pali, currently residing in Mysore city, also showcased her brilliant performance in the competition and became a player of the championship team. Pratijna Kag is a student of 7th grade.
Both talented players, Anchal Panwar and Pratigya Kag, have been selected at the national level to represent the Karnataka team. They will be participating in the national-level competition, which is scheduled to take place in Chennai city from 3rd August 2023 to 9th August 2023, on behalf of the Karnataka team.
We hope that both the daughters, Anchal Panwar and Pratigya Kag, will showcase their talent and give their best performance at the national level. Congratulations and best wishes to Anchal Panwar and Pratigya Kag for their achievements!
This information was provided by Shri Rajesh Panwar.
For this achievement, Anchal Panwar and Pratijna Kag are heartily congratulated and extended best wishes for a bright future from www.seervinews.com and the All India Seervi Samaj.